November is Native American Heritage Month! While we are intentional about highlighting the lives and contributions of indigenous people throughout the year, we take time this month to specially honor the people who live, or historically lived, on the land we now love. In this post, we have included a list of high-quality children's books written by Native authors. We have also included a section on books for adults as well to learn more.
If you are just getting started, websites like https://native-land.ca/ allow you to find out which Indigenous People live, or historically lived, in your area. In Dade City, we live on the ancestral homeland of the Seminole, Tocobaga, Miccosukee, and Mascogo people. We would especially like to recognize the Mascogos, "descendants of escaped African slaves who joined with the Seminole Indians in Florida to form a new identity." While today the Seminole Tribe of Florida and the Miccosukee Tribe of Indians still reside in Florida, the largest of the three federally recognized Seminole governments is based in Oklahoma. The Seminole Nation of Oklahoma are the descendants of the 3,000 Seminoles who were forcibly removed from Florida to Indian Territory, along with 800 Mascogos (Black Seminoles), after the Second Seminole War.
While terms like "forcibly removed" and "stolen land" are not pleasant to think about — facing these uncomfortable truths is an important step in honoring the true history of the lands we live, love, and work on. However, when we are working with young children, a great starting place is through the present and using the vibrant culture of storytelling.
So when discussing Native American Heritage with your children, consider some of these high-quality resources that will help children learn about and celebrate Native American culture both now and throughout the year.
To help you get started, we have put together a list of children's books written by Native authors about Native protagonists. Where possible, we have added links to indigenous-owned bookstores.
One wonderful resource for reviewing children's books through a social justice lens is Social Justice Books, which critically reviews multicultural and social justice books for children.
Children's Books to Celebrate Native American Heritage
She Sang Promise: The Story of Betty Mae Jumper: Seminole Tribal Leader by Jan Godown Annino (Seminole)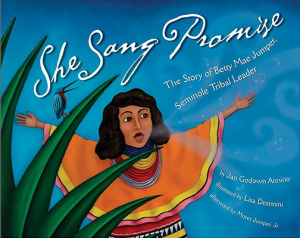 Editor's Synopsis: "She Sang Promise is the compelling and inspiring story of Betty Mae Tiger Jumper, one of modern America's first female elected tribal leader. With its lyrical, poetic text, and rich, vibrant illustration, this is a book to charm and amaze young readers.
Betty Mae Tiger Jumper was born in 1923, the daughter of a Seminole woman and a white man. She grew up in the Everglades under dark clouds of distrust among her tribe who could not accept her at first. As a child of a mixed marriage, she walked the line as a constant outsider. Growing up poor and isolated, she only discovered the joys of reading and writing at age 14. An iron will and sheer determination lead her to success, and she returned to her people as a qualified nurse. When her husband was too sick to go to his alligator wrestling tourist job, gutsy Betty Mae climbed right into the alligator pit! Storyteller, journalist, and community activist, Betty Mae Jumper was a voice for her people–ultimately becoming the first female elected Seminole tribal leader.
Lisa Desimini's stunning folk-style artwork brings this gripping tale and the lush Everglades setting to life. The book has been vetted by the Seminole Indian Museum."
Editor's Synopsis: "Cherokee people say otsaliheliga to express gratitude. It is a reminder to celebrate our blessings and reflect on struggles — daily, throughout the year, and across the seasons." This story takes the reader through all four seasons and introduces children to the individual beauty of each one. From cool breezes and falling leaves, to elders sharing stories and gathering spring's first food, contemporary Cherokee culture is woven throughout the journey."
This children's book is written by Native author Traci Sorell, who is a member of the Cherokee Nation.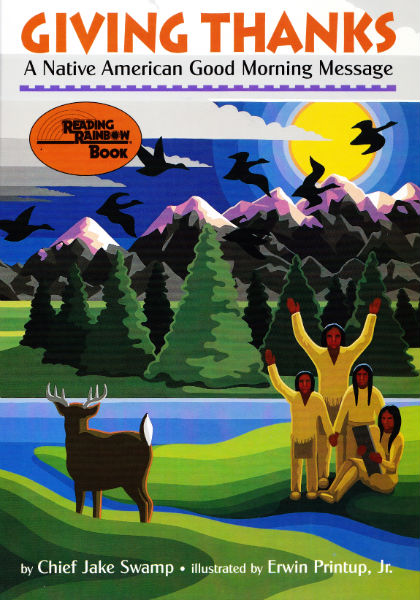 Editor's Synopsis: "Giving Thanks is a special children's version of the Thanksgiving Address, a message of gratitude that originated with the Native people of upstate New York and Canada and that is still spoken at ceremonial gatherings held by the Iroquois, or Six Nations."
Native author, Chief Jake Swamp was a Wolf Clan Mohawk diplomat and Native American illustrator Erwin Printup is a is a Cayuga/Tuscarora painter.
Berry Song by Michaela Goade (Tlingit/Haida)
Editor's Synopsis: "On an island at the edge of a wide, wild sea, a girl and her grandmother gather gifts from the earth. Salmon from the stream, herring eggs from the ocean, and in the forest, a world of berries.
Salmonberry, Cloudberry, Blueberry, Nagoonberry.
Huckleberry, Snowberry, Strawberry, Crowberry.
Through the seasons, they sing to the land as the land sings to them."
Indigenous author Michaela Goade is a member of the Tlingit and Haida tribes.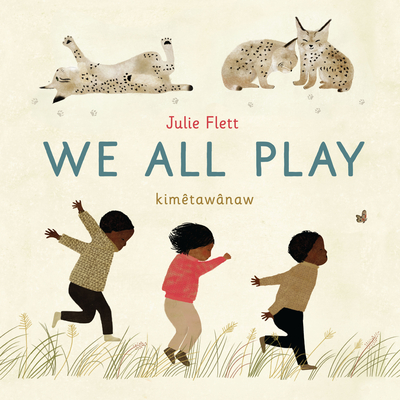 Editor's Synopsis: "Animals and kids love to play! This wonderful book celebrates playtime and the connection between children and the natural world.
We play too! / kimêtawânaw mîna
At the end of the book, animals and children gently fall asleep after a fun day of playing outside, making this book a great bedtime story. A beautiful ode to the animals and humans we share our world with, We All Play belongs on every bookshelf.
This book also includes:
A glossary of Cree words for wild animals in the book
A pronunciation guide and link to audio pronunciation recordings"
Julie Flett is a Cree-Métis author and illustrator.
Books for Older Readers to Learn More about
Native American Heritage
Editor's Synopsis: "Drawing on her life as an indigenous scientist, and as a woman, Kimmerer shows how other living beings―asters and goldenrod, strawberries and squash, salamanders, algae, and sweetgrass―offer us gifts and lessons, even if we've forgotten how to hear their voices. In reflections that range from the creation of Turtle Island to the forces that threaten its flourishing today, she circles toward a central argument: that the awakening of ecological consciousness requires the acknowledgment and celebration of our reciprocal relationship with the rest of the living world. For only when we can hear the languages of other beings will we be capable of understanding the generosity of the earth, and learn to give our own gifts in return."

Editor's Synopsis: "The first intersectional history of the Black and Native American struggle for freedom in our country, An Afro-Indigenous History of the United States also reframes our understanding of who was Indigenous in early America.
Beginning with pre-Revolutionary America and moving into the movement for Black lives and contemporary Indigenous activism, Afro-Indigenous author and historian, Kyle T. Mays argues that the foundations of the US are rooted in antiblackness and settler colonialism, and that these parallel oppressions continue into the present. He explores how Black and Indigenous peoples have always resisted and struggled for freedom, sometimes together, and sometimes apart.
Mays compels us to rethink both our history as well as contemporary debates and to imagine the powerful possibilities of Afro-Indigenous solidarity."
Editor's Synopsis: "The story of Native peoples' resistance to environmental injustice and land incursions, and a call for environmentalists to learn from the Indigenous community's rich history of activism.
Through the unique lens of "Indigenized environmental justice," Indigenous author, researcher and activist Dina Gilio-Whitaker explores the fraught history of treaty violations, struggles for food and water security, and protection of sacred sites, while highlighting the important leadership of Indigenous women in this centuries-long struggle.
Ultimately, she argues, modern environmentalists must look to the history of Indigenous resistance for wisdom and inspiration in our common fight for a just and sustainable future."
For more resources to reflect on Indigenous sovereignty and honoring Native lands, check out these articles on Embracing Equity's blog:
by Kameeka Shirley | Blazing Stars Montessori School | Founding Teacher-Leader